Latest Interior Design Trends and Technology
info | April 8, 2019 | 0 | Tech in Art
People love living in a home that has an enhanced and unique interior, that is more aesthetically pleasing to the eye. These renovations can be done by anyone who research's, plans and looks for the best and unique options to improve their interior. People who search for renovations either have the feeling that their house needs some improvements, or they would like to freshen their home up with some new changes. Imagine having a luxury hotel accommodation like feeling at your own home with just a bit of fit and fix in your own style.
Decorating a home depends on one's inspiration and what they love. Even the slightest of change can give your home a new look in terms of a minor or a major renovation process. Some people can do interior design on their own, and some need the help of a specialist to be able to achieve the look they want. This is done by interior designers who are trained specifically on how to do this work. They know where things should go and what colour schemes work best within your home.
Homeowners now want their homes to look modern and be updated with the latest trends. Hence, to cater and keep up with the ever-growing and dynamic demands of homeowners, home improving, and renovating companies are not coming up with new and creative ideas for revamping and design.
Here are some trending home renovations that are suitable for all budgets:
Open floor plans
Various home buyers have now adopted this open concept on their way to owning homes. The idea is to make the house look even more spaced out while giving the gathering places and cooking counters a more informal touch. They create the impression of spaciousness and cleanliness for an otherwise closed up room. How would you like having a fine dining experience in your own spacious kitchen.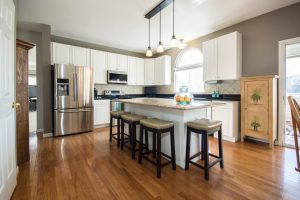 Higher ceilings
This does not require a lot of remodeling, and that is the reason people who have already built houses love the design. Addition of woodwork and beams as treatments to the ceiling might be required over and above. New builders can add vaulted or tray ceilings and add some elegant crown molding to complete the look.
Using technology
Using smart homes innovations through technology. Your old refrigerator can e replaced with the new model that alerts you when your usual groceries are running low and when it's time for the weekly grocery run. New technology coffee makers are designed to make coffee before you wake up rather than preparing it yourself. Current tech trends of lighting and lighting systems that can be adjusted using the smartphone can be replaced with the traditional manual methods. All of these factors will give your home an entirely new outlook and living standard.
Using colour tones
Using cool colours like navy, grey and blue shades. A mixture of grey and beige makes it easy for you to decorate the house in any way using different colours where it pairs well with dark hardwood floors. Navy can be used on pillows, accent walls, accent chairs.
Deep coloured accent walls
The easiest way to renovate your house is painting. Painting is very budget friendly, and there is an unlimited amount of colours and shades available for your interior. Unlike before people are now using bold colours to accent walls. Colours like dark grey create a very lovely illusion in your house.
These are just a few trends to look out for, but many decors can work for you depending on your taste. Don't be left behind by the growing world when it comes to decors, renovations, and remodeling. With so many design trends for inside your home that is budget friendly, there is no reason to hold back on creating your new look.  It is, however, all up to what you want and what works well for you. Renovating big or small will drastically change the look of your home even if it is just re-painting or changing the décor over to a different colour scheme.
Related Posts